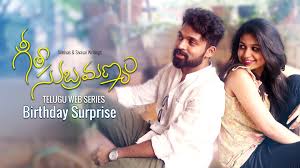 Telugu people turning aside web series slowly. At present most of the Telugu audience are used to watching web series. As the present favourable conditions, the OTT platforms plan to produce exclusive Telugu web series to cash the attention of the Telugu audience on web series. In this sense, Aha videos came frontline to provide pure Telugu web series with nativity. Let's check the Telugu shows online that are very good to watch on Aha.
GeethaSubramanyam 2020
GeethaSubramanyam 2020, a web series came with a feel good love story and the sweet battle within the lovers. It came as a sequel to GeethaSubramanyam, which came when OTT platforms were not yet much popular in Telugu states and became a super hit in YouTube with highest views. The sequel named GeethaSubramanyam 2020 came through Aha videos and became a super hit at Aha too. 
The story of the web series is about what the situations actually happen when a couple lives in a relationship together. Siva Sai Vardhan directed the web series and filmed it very well. GeethaSubramanyam 2020 received a good number of views from the family and youth audience. To watch the web series, browse 'Telugu shows online' at 'Aha'.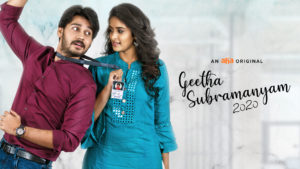 #Shit Happens
Shit Happens, a web series full of fun, streaming on aha now. The story of Shit Happens is about three friends, who named Dry Batch hire hooker to prove their cool quotient, but face some unexpected things at that time. What's that unexpected things? How do they face those situations? The elements shown in a funny way. Sri HarshaChemudu, who is known as Viva Harsha, Sameer Malla, Satwik played as three friends (Dry Batch). 
Prasanth Kumar Dimmala directed the web series. The way he filmed web series was really good and he made the audience laugh with this web series.  The healthy and sensible comedy is the main highlight of the #Shit Happens. It's streaming exclusively through Aha. To watch it now, browse as 'Telugu shows online' at 'Aha'. 
Locked
Locked, a web series came with thrilling experience. Satyadev played the lead role wonderfully with variations in his character. He appeared as neurosurgeon DrAnand. The story is about a neurosurgeon Dr. Anand locked with strange people in his own house itself. How the situation turned out horrible? How did Dr. Anand faces the situations in his own home? The answers revealed in the web series brilliantly. Pradeep Deva Kumar directed Locked. The way he filmed every frame is wonderful. He ended every episode with thrill. 
He justifies the genre suspense thriller. After a long gap veteran character artist Srilakshmi appeared in a vital role in the web series. The film continued with huge response from the Telugu audience. The Photography and background music made the web series thrilling. Satyadev's performance, Pradeep Deva Kumar's directions are the main highlights of Locked. To watch Locked, browse 'Telugu shows online' at 'Aha'.
Apart from the above said web series, popular director KrishJagarlamudi'sMasti's, the bold content Sin, lovely GeethaSubramanyam 2020, versatile anchor Suma's entertaining show All is Well with Suma, etc are placed at Aha. So, visit aha videos and get unlimited entertainment now.